We Pave Your Dreams
The mission of Bulldog Sitework LLC is to "pave your dreams". We strive to exceed each of our client´s expectations by delivering the best value possible. We, at Bulldog, take pride in delivering quality work safely.
A Woman Owned Small Business, located in Lake County and serving all of Central Florida
How does Bulldog Sitework LLC do the job?
Frictionless site development
We listen to your scope of work vision and needs
We ask questions to clearly understand our role and your expectations in the process
We create a formal work plan for your review and approval
We provide professional and continuous oversight on site preparation, clearing, grading underground utilities, paving and excavating
We understand our role on the project development
We remain flexible to deliver quality site development
We are committed to every deadline
We take pride in quality work
Safety Comes First
We have an ongoing training of our comprehensive safety protocol
We provide a safe working environment
We monitor our workforce and job site daily to ensure compliance
The blueprint of Bulldog
Support a winning project
Bulldog sitework defines site work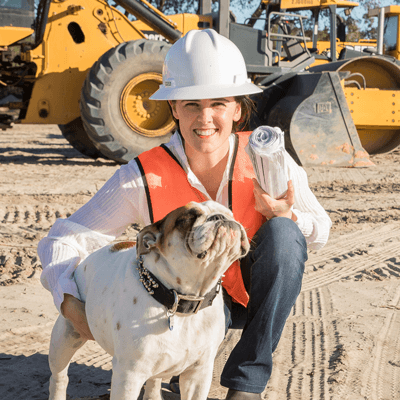 She is the owner of Bulldog Sitework LLC. She does the estimating as well as the day to day running operations of the company.